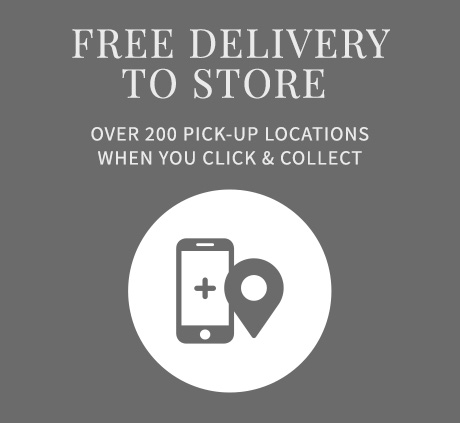 It's FREE
You love to shop, but you don't especially love shipping fees? Then the Click & Collect option is the right fit for you!
SECURE & CONVENIENT
Ship your purchase to an Addition Elle or Penningtons store near you anywhere in Canada FREE OF CHARGE. Try on in store and receive expert fashion advice on how to build the perfect wardrobe. If you are not satisfied, exchange or return on the spot.
TRY AT HOME - RISK FREE
Don't have time to try in store? We offer an option that allows you to return later, FREE OF CHARGE in Canada within 30 days from reception, using the pre-paid shipping label we provided for your convenience. Enhance you shopping experience with peace of mind.
Easy steps on how
Click & Collect works
1.
CHOOSE SHIPPING METHOD
"SHIP TO STORE"
Select your favorite Addition Elle or Penningtons store location where you wish your items to be delivered free of charge.
2.
WE SHIP YOUR ORDER
Your order will be shipped to the
store you selected within 5-7 days.
3.
RECEIVE A PHONE CALL
We'll give you a call when it's
ready for pick-up.
4.
PICK UP YOUR PARCEL
Bring a valid ID and your
"shipping confirmation" email with you or present
it on your mobile device upon pick-up in store.
Why choose
Click & Collect?
+200 Convenient
pick-up locations
across Canada
Try on what you
purchased right away
and get fashion advice
from in-store fit experts
Wrong size? Not the right
color? No problem, you
can exchange or return in
store right away
And of course
shipping is free
FAQ
HOW DO I SHIP MY ORDER TO A STORE?
During the checkout process
Choose "Ship to store"
Enter your email address, first name, last name, and phone number


IS THE CLICK & COLLECT PROGRAM AVAILABLE OUTSIDE CANADA?
The Click & Collect program is only available within Canada at the moment.
When will I receive my order?
Click & Collect shipments are delivered to your favorite Addition Elle or Penningtons store within 5 – 7 days.
A « shipping confirmation » email will be sent to the email address provided to advise you that your parcel has left the warehouse. (This is a separate e-mail from your order confirmation.)
Our friendly Addition Elle staff will call you upon reception of your parcel.
HOW DO I PICK UP MY ORDER?
You will receive a phone call from the store informing you that your parcel is ready for pick-up. You must bring your "shipping confirmation" email, your ID, and credit card used upon order to pick up your parcel in store.
HOW CAN I CHECK THE STATUS OF MY ORDER?
At any time, you can return to Additionelle.com to see the status of your order. There are two ways for you to see the status of your order:
For customers with an account on Additionelle.com:
Select SIGN IN from the top of any Additionelle.com page.
Under RETURNING CUSTOMER, type your email address and password into the corresponding boxes and select LOGIN.
Select ORDER HISTORY to see the order summary of your past orders.
To see the status of a particular order, select ORDER DETAILS corresponding to the order in question.
For all customers, including those who don't have an account with Additionelle.com:
Select Order Status at the bottom of any Additionelle.com page.
From the order status page, enter the order number, email and postal/zip code associated with the billing address and select CHECK STATUS.
This will take you to the order details page.
If, within the same order, you have purchased both a gift card and merchandise, the gift card will be mailed to you separately from your merchandise. An invoice and pre-printed return label will be enclosed with each order shipment.
What can I return?
Ship-to-store purchases from Additionelle.com can be returned either at any Addition Elle / Penningtons store or by mailing the purchase back to Addition Elle, and returns are always free in Canada. Exchanges can only be done in an Addition Elle store.
Within 30 days of purchase, you are welcome to return your unworn, unwashed, unaltered item(s) with the price ticket(s) still attached, to receive a full refund. Shipping charges cannot be refunded. Please note that refunds will be processed using the same payment method as for the original purchase.
The following items are excluded from this refund policy and will not be accepted for refund or exchange:
Socks, leggings (individual wrapped) and hosiery
Panties
All Shapewear
Swimwear bottoms and one piece bathing suits
Jewelry, including pierced earrings and toe rings
Gift cards and gift receipts
Exchanges can only be done in store. We do not offer exchanges by mail.
When does the 30-day returns period start?
The 30-day period starts when the merchandise is received.
How long does it take to have a refund?
You receive an immediate refund if you return your order in store.
However, if you choose to return by mail, between the time you return your parcel and the time it takes to arrive at our Distribution Center, please allow up to 10 business days for your return to be processed and 1-2 billing cycles for the return to appear on your credit card statement.
-------