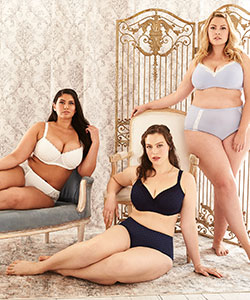 Ti Voglio, from the Italian phrase "I want you", embraces women who want to feel beautiful, feminine and sensual. With innovative designs to fit plus-size curves, it features 3 styles, available in sizes G&H:
· Naturale - wireless for natural shaping and comfort
· Essenziale - seamless underwire designed for all-day support
· Sensuale - lift and accentuate for a sultry look

Shop this new collection at these exclusive locations:
Faubourg Boisbriand >
Mega Centre Beauport >
Les Galeries d'Anjou >
CARREFOUR LAVAL >
Ti Voglio will be available online soon!
Shop our other great lingerie collections while you wait.
shop now